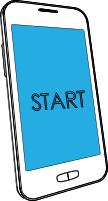 Java, Android
The Devmel SDK (Java & Android) makes it easy to use AirSend and connect to any device through internet from an Android System or a Java Application.
Downloading the SDK
The SDK will be available for download soon.
Beginner's Tutorial
We provide a beginner's tutorial to help you get started with this SDK.
API Reference
Because Java libraries cannot include Javadoc files, HTML documentation can be read online.
You can set up your environment to use online javadoc with this address : http://devmel.com/en/developer/java-sdk/docs/
Thank you for developing on our platform....