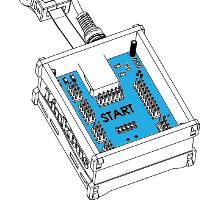 CAD Library
The provided CAD library helps you to build LinkBus Module. It has both Symbols and Footprints (Device, Symbol & Package) information.
Downloading the Library
The library is available for download here
Install the library
Open Eagle (see What is EAGLE ?) and select the Control Panel window.
Second, tell Eagle about the new subdirectory for library files.
Third, tell Eagle to "use" (or to activate) the new libraries.
Design your module
Select the port that you want and design your module around it.
Thank you for developing on our platform....